Happy Monday! It's time once again to round up all the stuff I saw on the internet last week that I think you should see, too.
---
Enjoying Kat Watches Everything?
If you like Kat Watches Everything, consider sharing it with your friends and throwing a few bucks in — it's $5 a month, or $50 a year. Paying subscribers get exclusive content several times a month that the rest of you miss out on! Hit the button below to support your local pop culture bum:
---
In last week's episode of I Hate It But I Love It, Jocelyn and I discussed The Devil's Advocate, which was a lot less campy and a lot more upsetting than we remembered. Content warning: the episode includes discussion of sexual violence against women and children, incest, and suicide. This movie is awful. (You can subscribe to I Hate It But I Love It in all the usual places, including Apple, Spotify, Stitcher, and Pocket Casts.)
---
TWEETS!
ah, you're back from foraging for supplies! while you were out, we admitted an outsider to the group: gary, who is evil
Sometimes I wish I was one of those hot girls that acts like a bitch instead of one of those hot girls that's kind with a perfect personality like I am
My therapist: <laughs at a joke I said> Me (to myself): This is great. I'm going to get a good grade in therapy, something that is both normal to want and possible to achieve,
"Are we still on?" - An attempt to cancel
do gen z know we used to upload 90 photos to a facebook album after every single night out? they'd be so mortified for us.
zoomers aren't allowed to make fun of early 2000s culture, you kids will never understand, every adult in our lives went insane after 9/11, this awful bullshit is all we had
---
REDDIT!
What a sad, sad, little man:
One of our friends, Trish, was mentioning that she was nervous for a driving exam, so Jean was trying to reassure her. Which would be fine, except she used the exact phrasing she uses when she's powering me up. I got really upset and stayed quiet for the rest of the movie. When she asked me what was wrong, I told her the truth. I feel like she shouldn't be wasting my power words on other people. I need them most
People with pregnant parters, don't tell them that them rubbing their bellies bugs you:
I get that it's about bonding, but I asked her to maybe not do it so much around me because it makes me uncomfortable. I got told I was controlling and unsupportive, but those are pretty outrageous claims considering how much support I have given her. Never once have I complained about anything until now, so what she said was extremely hurtful. She doesn't even see me that much during the week, so I don't understand how I am controlling.
What a cutie pie: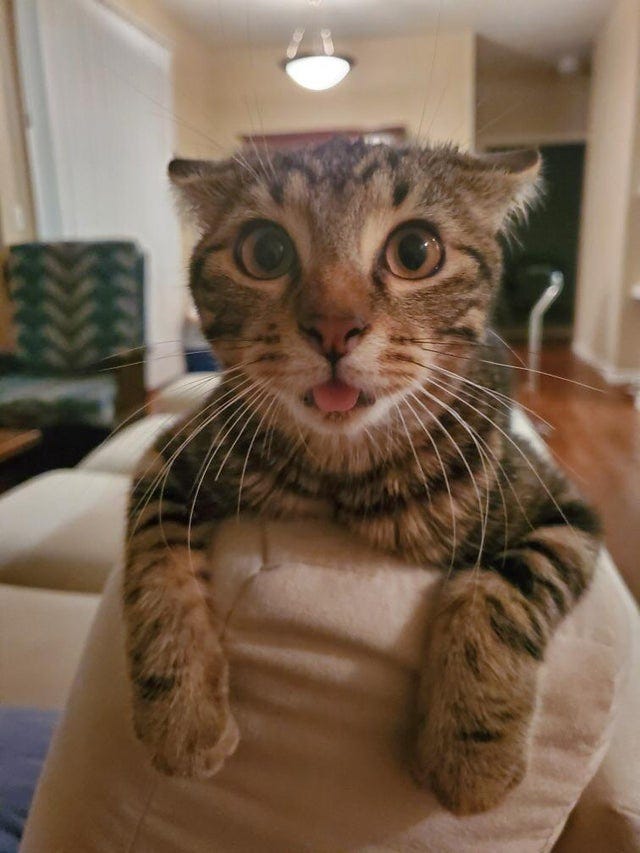 ---
TUMBLR!
Excuse me, she named the baby Rum Tum Tugger:
(via biggest-gaudiest-patronuses.)
Speaking of Twilight:
(via squoiler.)
This week's "oofamagoof":
(via broken-skies-and-angel-wings, thread found here.)
---
This is several years old but I only saw it this past week: You should really watch all of the Bad Lip Reading version of High School Musical, but if you must only watch one clip, please watch this one:
Also here's a really good TikTok.
---
ARTICLES!
---
That's all for me today, gorgeous! Talk to you soon.
Love,
Kat
---
You can follow me on Twitter here, and Instagram here. *All typos and other errors were included specifically to bother you.*